The new Shanling Q1 combines modern features in a high-resolution portable music player with a touch of retro design.
Inspired by design of 1940s and 1950s, Q1 brings unique look into the world of portable music players. With smooth round edges, creamy pastel colors and distinct chrome-like parts, it stands out among cold, streamlined and too technical designs of other players on the market.
Shanling Q1 Hi-Fi Sound
Developed to provide premium sound quality and full support of High-resolution audio, Shanling Q1 was built with special ESS Sabre ES9218P Hi-Fi DAC/AMP. Offering significantly higher output power than almost all smartphones, for use with more demanding headphones. Yet keeping audio background completely quiet and hiss-free for use with very sensitive earphones.
Enhanced MTouch Operating System
Modern System: Running on 3rd generation of Shanling's MTouch OS, Shanling Q1 is equipped with simple touch-based system offering quick access to rich set of features. Developed by our own software team and for the first time released in spring 2018, MTouch is a constantly growing system, thanks to additions of new functions and with the feedback of our users from all around the World.
Wireless Connection
With Bluetooth headphones and speakers: Compatible with wide range of devices and offering high sound quality thanks to the support of advanced Bluetooth codecs Sony LDAC, Qualcomm aptX and AAC.
With smartphones and tablets: It is possible to connect Q1 to other devices to use it as a Wireless Hi-Fi Bluetooth Amplifier. Enjoy any music streaming service, movies or even Youtube from your phone through the Q1, with premium sound and convenience of wireless connection.
For any computer: Q1 can serve as a USB Bluetooth transmitter, providing any computer with high quality Bluetooth connection to wireless headphones and speakers. And even if the computer already has Bluetooth, Shanling Q1 can improve upon the overall sound quality thanks to its support of advanced Bluetooth codecs.
Fitting Audiophile Needs
Hi-Res Audio: Take full advantage of the modern High-Resolution music files with Q1. Supporting wide range of formats and resolutions, all the way up to 32 bit / 384 kHz PCM and DSD 128. Any music collection can be simply played on Shanling Q1, without any need for downsampling, converting or complicated transfer software.
Expandable memory: To fit needs of all users, from just starting music fans all the way to experienced audiophiles with massive libraries full of Hi-Res files, Micro SD cards are ideal solution. No need to worry about limited build-in memory, simply pick size of Micro SD card fitting your music collection and insert it into Q1. And when collection grows bigger, you only need to upgrade to bigger card, Q1 is able to manage cards up to 2TB.
USB DAC/AMP: While Shanling Q1 is perfect standalone player for use on the go, it fits as nicely into a home or an office, for use at the desk. Just connect Q1 to any computer and turn it into excellent sounding Hi-Fi sound card, including support of Hi-Res files up to 24 bit / 192 kHz.
Digital USB Output: To achieve an even better sound quality, Shanling Q1 offers digital USB output for use with dedicated Hi-Fi DACs. No matter if it's a small portable DAC/AMP for use while traveling, compact bedside headphone rig or even massive 2-channel speaker set-up, Q1 will always serve as practical digital lossless music source. Thanks to this feature, Q1 can be also used with many USB-C headphones.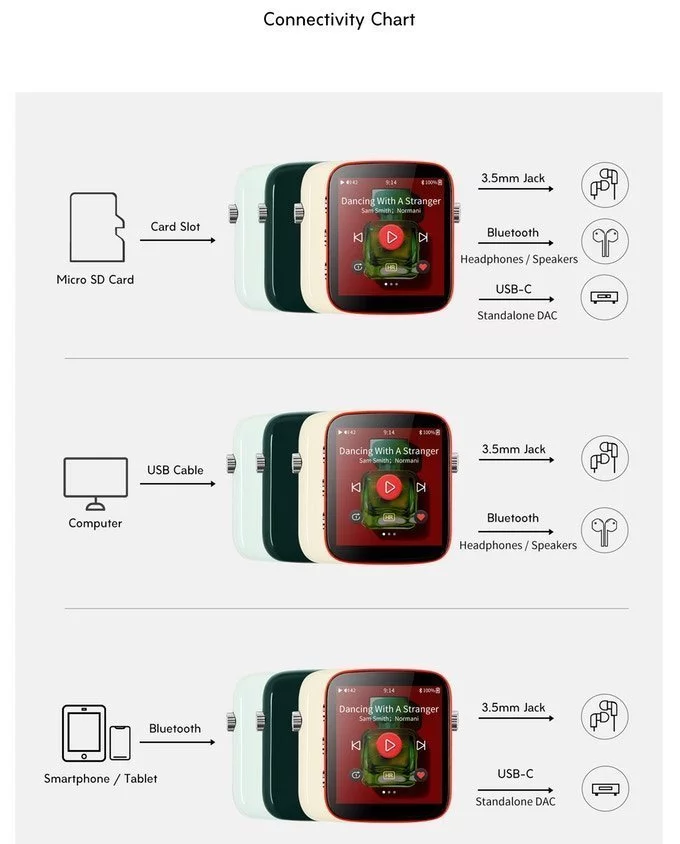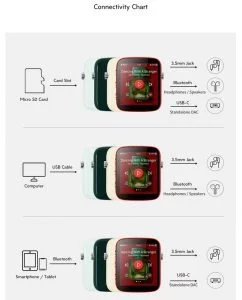 All In Practical Package
Pocketable Size: What is Hi-Fi music player good for, if it can't go everywhere with you? Q1 was designed to be truly portable device, that you can always keep in your bag, purse or pocket. With 2.7-inch screen and 75 x 62 x 16.5 mm dimensions, Q1 is smaller than pack of cards.
Durable construction: Q1 was built to be one very tough little music player, with unibody construction from zinc alloy and 7H tempered glass panel. And for little bit extra durability, every Shanling Q1 comes with a protective silicone case in matching color.
Physical controls: While the touch screen of Q1 is perfect for browsing through music library, nothing beats physical controls for simple playback navigation. With three buttons and classic volume wheel, Shanling Q1 is really easy to control even in total darkness or when placed deep into a pocket.
Long battery life: Thanks to power efficient design, battery life of Q1 can reach up to 21 hours of continuous playback. Enough to last over any intercontinental flight, keeping up with long working day or going on for days and days of basic work commute. And with universal USB-C connector, it can be easily recharged almost everywhere.
Shanling Q1 Features
Unique retro design
Powerful Hi-fi DAC/AMP ESS Sabre ES9218P chip
MTouch 3.0 OS developed by Shanling
Bluetooth connection to headphones, using LDAC, aptX, AAC
Bluetooth receiver mode for use with smartphones and tablets
Bluetooth transmitter function when used with computer
Hi-Res audio support
Expandable memory – Micro SD card slot
USB DAC/AMP function for use with computer
Digital USB output for use with standalone DACs
Pocket friendly size
Durable Zinc Alloy construction
Hardware buttons and volume wheel
Battery life up to 21 hours